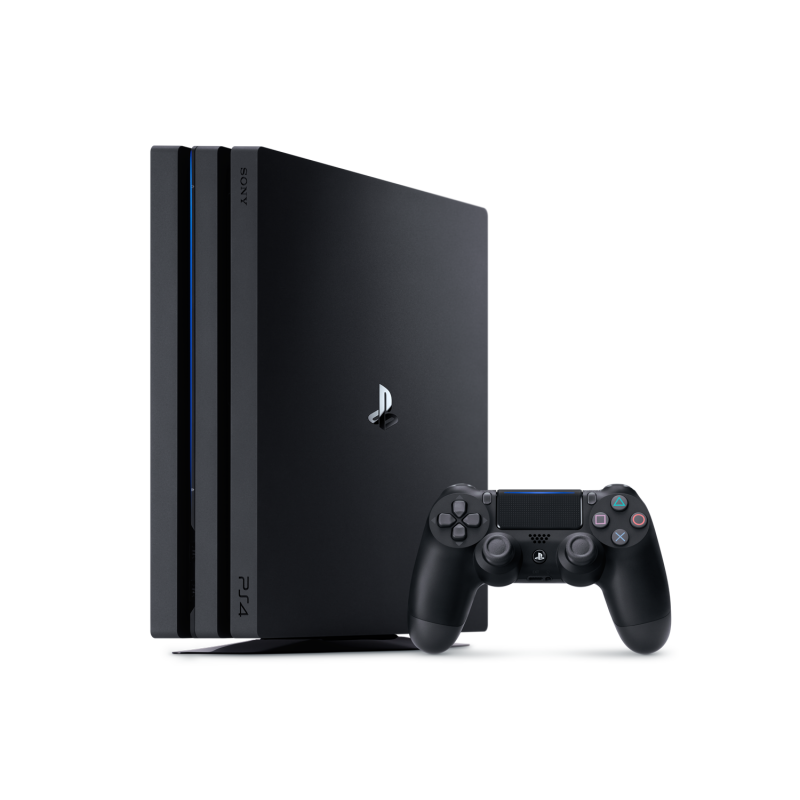  
HEIGHTEN YOUR EXPERIENCES. ENRICH YOUR ADVENTURES.
PS4™Pro is a high-end version of PS4™ that is capable of outputting 4K graphics, HDR support, smoother and more stable frame rates and 4K video streaming. PS4™Pro will come standard with a 1TB HDD to encourage you to enjoy variety of contents. Of course, PS4™Pro is compatible with every PS4™ game. Play online with other PS4™ players with PlayStation®Plus.  
Enhanced for PS4™Pro
PS4™Pro support for faster frame rates delivers super-sharp action for selected PS4™ games.  
Dynamic 4K Gaming and 4K Entertainment
Games explode into life with intense graphics and incredibly lifelike details thanks to double the GPU power under the hood compared to the standard PS4™. If you own the 4K TV, PS4™Pro will provide the latest games in amazing clarity with dynamic 4K; skin tones become warmer, materials take on realistic textures and environments come alive like never before. HDR-enabled content played on an HDR-compatible TV produces a noticeably fuller, richer image, that's closer to what the eye naturally sees. Additionally, PS4™ games that render below native 1080p (maximum quality for HD TVs) on the standard PS4™ can be elevated to render at full native 1080p on an HDTV.  
PS4™Pro Design
PS4™Pro will come standard with a 1TB HDD, and a third USB 3.1 Gen.1 port on the rear of the unit. PS4™Pro's more powerful hardware can also benefit PlayStation®VR games, enhance streaming features such as Share Play and Remote Play, and enable higher resolution output for media captured using the SHARE button.  
PS4™Pro Resolutions
| | 4K content | 2K or less than 1080p content |
| --- | --- | --- |
| 2K TV | Optimized to 1080p | If less than 1080p, upscale to 1080p |
| 4K TV | If 4K (2160p), display as is | Upscale to 4K (2160p) |
| 4K/ HDR TV | If 4K (2160p), display as is If content is HDR supported, display in HDR | Upscale to 4K (2160p) If content is HDR supported, display in HDR |
PS4 Pro Specifications
Main processor
Single-chip custom processor CPU : x86-64 AMD "Jaguar", 8 cores GPU : 4.20 TFLOPS, AMD Radeon™ based graphics engine
Memory
GDDR5 8GB
Storage size
1TB Hard disk drive *1
External dimensions
Approx.  295 × 55 × 327 mm (width × height × length) (excludes largest projection)
Mass​
Approx. 3.3kg
BD/ DVD drive (read only)
Input / Output

Super-Speed USB (USB 3.1 Gen1) port × 3
AUX port × 1

Networking​

Ethernet (10BASE-T, 100BASE-TX, 1000BASE-T) ×1
IEEE 802.11 a/b/g/n/ac
Bluetooth® 4.0 (LE)

Power
AC 100-240V, 50/60Hz
Power consumption
Max. 310W
Operating Temperature​
5°C – 35°C
AV output​

HDMI out port (supports 4K/HDR)
DIGITAL OUT (OPTICAL) port